google-site-verification=KcVjmQ4IKntCV3KEtp4mAXXOHCIdEQmJXlMZq7gfBtM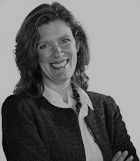 Trainer, Accredited Mediator and PPC
Adrienne brings her significant experience in family law and mediation to the Trust to deliver the Effective Screening and assessment for Domestic Abuse in Mediation training course.
Adrienne ceased practice as a family law solicitor in 2000 to focus on mediation and become a Family Law Lecturer at Exeter University in. 2002. In 2013 she started her own private family mediation practice, which continues to grow and stopped lecturing in 2015. Adrienne joined the Family Mediation Standards Board in 2015 as one of its founder members, leading on working panels for both accreditation and training and was involved with, amongst other areas, implementing standards for child inclusive work and co ordinating the PPC Code of Practice. Adrienne retired from the FMSB in July 2020.
Adrienne has trained on mediation foundation training courses and has designed and run mediation courses on communication, child focused mediation and effective screening for domestic abuse, which are areas in which she has a particular interest. She has presented at various conferences in recent years, in the UK and abroad. Adrienne is a member of the Family Solutions Group which is a sub group of the Private Law Working Group and a founder member of the Mediation and Domestic Abuse Network.